Some people use metal pans for cooking their pizzas and others use a pizza stone. It's a matter preference, but here's a little background on the issue.
Stone Or No Stone
A pizza stone will make the crust of a pizza nice and crispy. The heat from your oven is distributed evenly across a pizza stone, and the porous nature of the stone plays a key role in removing a lot of the moisture from the pizza. This makes a crispy crust, which many people prefer. This porous quality of a pizza stone, however, means that you need to take special care of it.
Pizza Stone Care
It goes without saying that if the stone will absorb the moisture from your pizza, it will also absorb other things like soap. Because of this, you should never wash your pizza stone with soapy water. Use only cool water, and be sure your stone has cooled completely first. Here are some other tips on how to use and care for your pizza stone.
• Always place your stone in a cold oven. It needs to absorb the heat evenly. A pizza stone may shatter if placed into a hot oven when it's cold.
• Your pizza stone needs to be preheated before using it.
• To safely remove it from the oven a wooden paddle is recommended as pot holders aren't designed to handle something as hot as the stone.
• A heavy pizza stone doesn't cook any better than a lighter one.
• Use a wooden paddle to place your pizza onto the preheated stone to avoid getting burned.
Caring For Your Pizza Stone…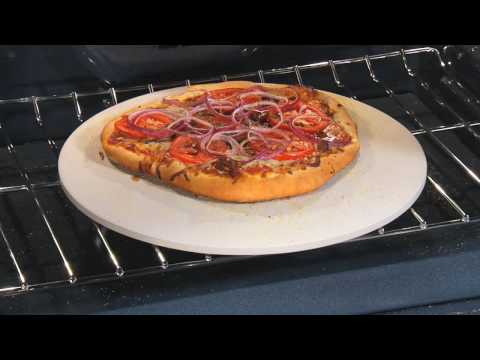 Pizza stones are a great choice for making pizza at home, or even for reheating your pizza. You just have to know how to use and care for your pizza stone. Hope this helps, and remember, if you should happen to mess it up, you can always call Melbourne pizza delivery!
Aussie Pizza Connoisseur
Melbourne Pizza Delivery © 2009